Houston Defense Attorney Greg Tsioros
Experienced Criminal Defense in Brazoria, Ft. Bend, Galveston, Harris & Montgomery Counties
Houston defense attorney Greg Tsioros provides experienced, aggressive criminal defense in the Houston metropolitan area - representing clients in Brazoria, Ft. Bend, Galveston, Harris and Montgomery Counties. He is licensed to practice in Texas state courts and in the Federal District Court for the Southern District of Texas.
Experienced Houston Criminal Defense
A former prosecutor for the Harris County District Attorney's office, attorney Greg Tsioros has the experience necessary to vigorously defend your constitutional rights. Having launched his career working for the state of Texas, Houston defense attorney Greg Tsioros has the ability to anticipate every move the prosecution makes - bringing his unique skills to the negotiating table for each and every one of the clients he represents.
Practice Areas - Criminal Law
Houston criminal defense attorney Greg Tsioros provides legal counsel and protects the rights clients who are accused of committing misdemeanors and state or federal-level felonies. He defends his clients in an array of criminal cases—from identity theft and indecent exposure to more severe DWI and drug charges. He also provides skilled representation for parole issues. If you are applying for parole or fighting a parole revocation, The Law Office of Greg Tsioros can help. Mr. Tsioros has years of experience as a Texas state prosecutor and as an accomplished criminal defense lawyer. He has the skills and tenacity to defend you against any criminal charge. Mr. Tsioros will provide an aggressive defense to secure the best outcome for your legal trial.
Why Choose Greg Tsioros?
When you are facing criminal or DWI charges, your future can depend on the careful selection of qualified legal representation. State and federal prosecutors leave no stone unturned when building a case against a defendant, often tapping into extensive governmental resources to depict them as immoral and unremorseful criminals with no respect for the law. The legal advice of a seasoned criminal defense attorney is critical to the protection of your constitutional rights as a citizen, and more importantly, as a human being.
Attorney Greg Tsioros takes pride in the development of a close relationship with each of his clients, making a concerted effort to get to know them as individuals who represent far more than the charges brought against them. Mr. Tsioros has the unique ability to develop and convey to the courts your personality and positive contributions as a student, family member, employee and citizen- helping your prospects at every stage of the case.
Being charged with a crime can be a frightening experience. Let the guidance of a qualified Houston defense attorney see you through the complex and potentially overwhelming legal process that lies ahead. If you have a pending criminal case and need legal representation, or if you anticipate criminal charges being filed against you in the future, please contact the law office of attorney Greg Tsioros for a free, no obligation consultation. Mr. Tsioros will be happy to consult with you over the phone or to schedule an office appointment for an in person consultation as well.
Take the first step to putting your legal matters behind you.
Call our office at (832) 752-5972, email us or contact us online today.
We are located at 2016 Main St. Ste 102, Houston, TX 77002.
Opening Hours: Monday through Friday from 9:00 AM to 5:00 PM.
Experience & Results
As a former prosecutor and an established attorney, Greg Tsioros has plenty of experience and a winning track record! He can anticipate moves the prosecutor will make, and will make sure you have the best chance possible at returning to your normal life. The sooner you talk to someone the better, so call today!
Free Consultation
Before you hire an attorney, you should know that you are dealing with a reputable attorney who will not rip you off. You need to meet your attorney, and you should not have to pay for that. We will listen to your side of the story and answer any questions you may have. Schedule your free consultation today!
Affordable Plans
Legal representation is not cheap. We understand that you need help, so we try to make our services affordable on any budget and offer payment plans. For most attorneys, affordable means cheap and ineffective. For us, affordable means great representation at great prices. Call for a free consultation!
Meet Attorney Greg Tsioros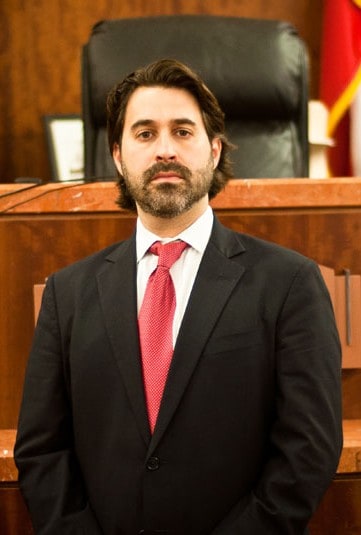 Education
Admitted to Practice
State Bar of Texas (2005)
United States District Court, Southern District of Texas (2008)
Professional Associations
Texas Criminal Defense Lawyers Association
Harris County Criminal Lawyers Association
Education
South Texas College of Law, Houston, Texas, J.D. (2005)
University of Texas at Austin, B.S.
Criminal Justice Experience
Former prosecutor at the Harris County District Attorney's Office in both felony and misdemeanor courts.
Felony Courts: 174th and 351st District Courts
Misdemeanor Courts: County Criminal Courts at Law No. 3, 7, 12
Family Courts: Protective Order Hearings
Testimonials
Always prepared. Aggressive. Knows the law and the prosecutor !

Gardner Eastland

A true advocate for his client and spends a lot of time preparing for them. Aggressive, but diplomatic…definite qualities you get from this attorney.

Richard Tran

Amir Ansari